Equipment
After completing a comprehensive training programme over a 3 year period, I graduated from the renowned Scott Studio, Somerset in Pilates Matwork and Apparatus. My classes incorporate the use of a Stability or Wunder Chair, and Reformer with upright frame and a wide range of small equipment to challenge, assist and work the body in numerous ways to achieve the goals of the individual client.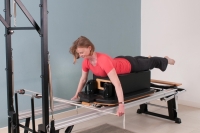 Rehab Reformer
The Rehab Reformer is higher off the ground than regular reformers for easier mounts and dismounts, an important consideration for mobility-challenged clients or those seeking exercise for sport injury. It allows you to use this unit strictly as a reformer or benefit from numerous Cadillac exercises by adding a mat converter and utilizing the vertical frame.

This unique apparatus uses spring-controlled resistance to build core strength and increase flexibility, endurance and coordination. The resistance created by the pulley and spring system can provide a more challenging strength and endurance workout. The many attachments increase the range of modifications that can be made to the exercises and enable the individual to perform additional exercises beyond what can be achieved on the mat and allows people with limited range of movement or injuries to safely tackle modified exercise. The result is a strong, yet flexible, well toned body without muscle bulk.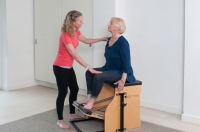 Stability chair
The Stability Chair, like the reformer is another of Joseph Pilates' resistance exercise machines. It is basically a box composed of a padded top and a pedal attached to springs for resistance. The pedal can also be split into two parts which can be worked independently.

The Chair is excellent for strengthening the core muscles and the arms and legs. Exercised are done lying, sitting and standing on the Chair. It is widely considered one of the most challenging and fun pieces of apparatus.